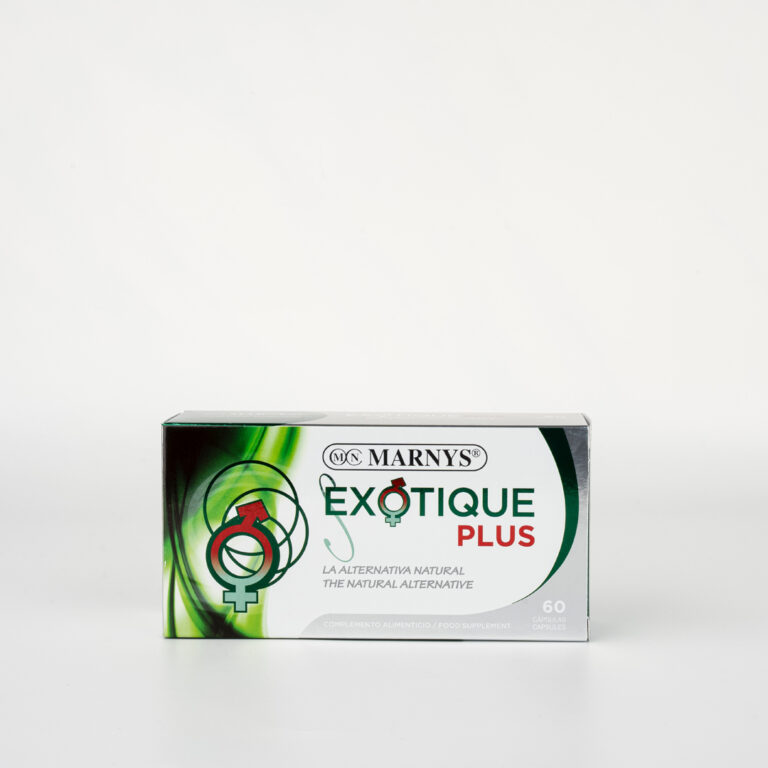 Energy and vigor to assure your success
Prepares the body for optimal physical performance with a stimulating effect.
MARNYS® EXOTIQUE PLUS formula contains Siberian Ginseng, Guarana, Taurine, Royal Jelly, Ginseng, Creatine and L-arginine. A unique supplement recommended for people that need extra support from time to time.
Eleutherococcus senticosus is also known as "Siberian ginseng" and is widely used in Russia, China, Korea and Japan in sports and to beat fatigue.
Taurine is a natural amino acid found in many tissues, especially skeletal muscle.
Guarana is traditionally used by indigenous communities in the Amazon. It is mainly valued for its high caffeine content.
Royal jelly is highly nutritious, being the queen bee's only food source. It is believed to be the secret to her longevity.
Ginseng is one of the most farmed, as it is one of the main ingredients of traditional East Asian medicine and one of the most popularly used in the world. Its properties are thanks to the saponins that it contains, also called ginsenosides.
Creatine is a natural amino acid that is stored in skeletal muscle, the rest is found in the heart, brain and testicles.
Arginine is a semi-essential amino acid, precursor for ingredients such as nitric oxide, involved in vasodilation.
MARNYS® EXOTIQUE PLUS formula contains Eleutherococcus, Guarana, Taurine, Royal Jelly, Korean Ginseng, Creatine and L-Arginine, a unique blend of 100% natural source ingredients specially tailored to give an energy boost.
One capsule provides well known and safe ingredients widely used in traditional medicine to beat fatigue and improve vitality. MARNYS® EXOTIQUE PLUS also contains Taurine and L-Arginine, two essential amino acids that, according to scientific data, plays an important role in the sex organs.
Become Stronger & Healthier with MARNYS® EXOTIQUE PLUS and assure your quality success.
Eleutherococcus is widely used in sports and to beat fatigue. Eleutherococcus contains a high concentration of polyphenols that contribute to both cognitive performance and the maintenance of blood circulation.
Korean Ginseng favors the energetic process for mental and physical activities, and normal sexual function.
Guarana is valued mainly for its invigorating action, which favors the metabolic process and allows the maintenance of body weight.
Royal Jelly is bee queen's exclusive diet, an indispensable food for her development and fertility, allowing her to lay approximately up to 2000 eggs per day and so guaranteeing the continuity of the beehive. It has a high energetic and tonic value.
Taurine, Arginine and Creatine are amino acids present in many tissues: nervous, muscular, cardiac, etc. Their presence is fundamental for the processes of vasodilatation, muscular contraction and energy production, contributing to vascular and muscular tone and vitality. 
Arginine especially modulates the vasodilation produced by the so-called route of nitric oxide (NO), which promotes normal cardiovascular and sexual functions.
Ref.
1) MacKay, Douglas, 2004. 2) Matthew Hall, D. O., 2013. 3) Taurine monograph, 2001. 4) L-Arginine monograph, 2005.
Per capsule: Eleuterococcus (100 mg), Guarana (Paullinia Cupana) (100 mg), Taurine (100 mg), Lyophilized Royal Jelly (85 mg), Korean Ginseng (75 mg), Creatine (25 mg), L Arginine (25 mg).
Take two capsules a day, preferably before meals.
60 capsules
Contains caffeine (26 mg/2 capsules). Not recommended for children or during pregnancy.
Start out with small doses to determine tolerance. Do not use if allergic to bee by products.