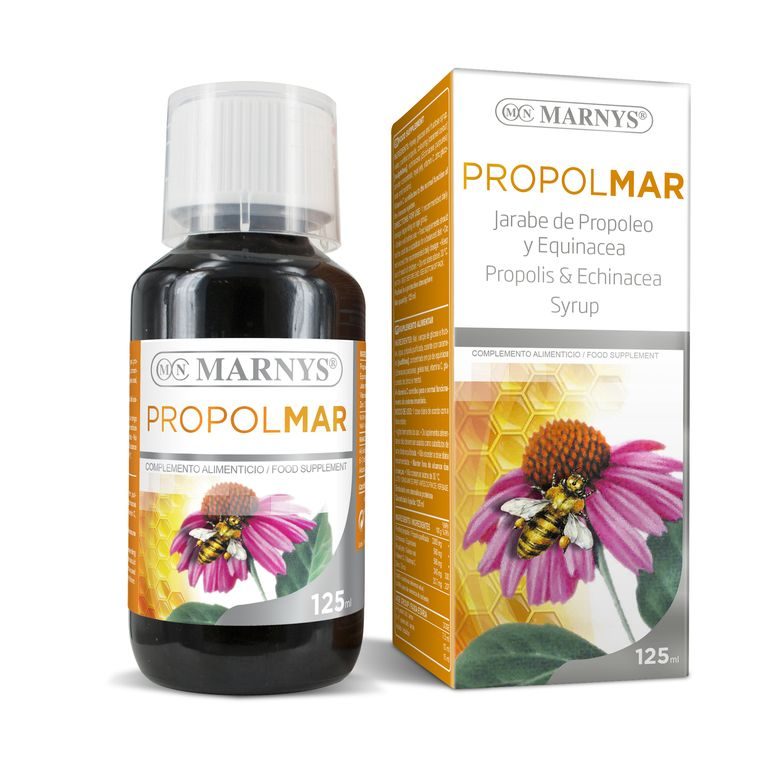 Natural defences
Natural defences. Propolis syrup with Royal Jelly, Echinacea and vitamins for the immune system*
MARNYS® PROPOLMAR Syrup derived from Propolis with honey, Echinacea purpurea juice concentrate, Royal Jelly, vitamin C, zinc and menthol.
Vitamin C and Zinc help maintain a normal immune system*.
In Greek Pro- means "defence" and -polis means "city". Propolis is a resin made by bees to protect their hive from disease by sealing the walls and cells.
One of the food items with the highest source of flavonoids, like galangin, its most effective active ingredient. MARNYS® guarantees 10% minimum galangin content.
Echinacea is one of the most studied plants in the field of phytotherapy.
Royal jelly is the only food source that the queen bee receives throughout her lifetime. It is believed to be the secret to her longevity.
Deionized water, honey, fructose, Propolis, Echinacea purpurea juice, Royal Jelly, vitamin C, zinc gluconate and menthol.
Take 10 to 15 ml a day, preferably before breakfast.
125ml bottle
Start out with small doses to determine tolerance. Do not use if allergic to bee by products.