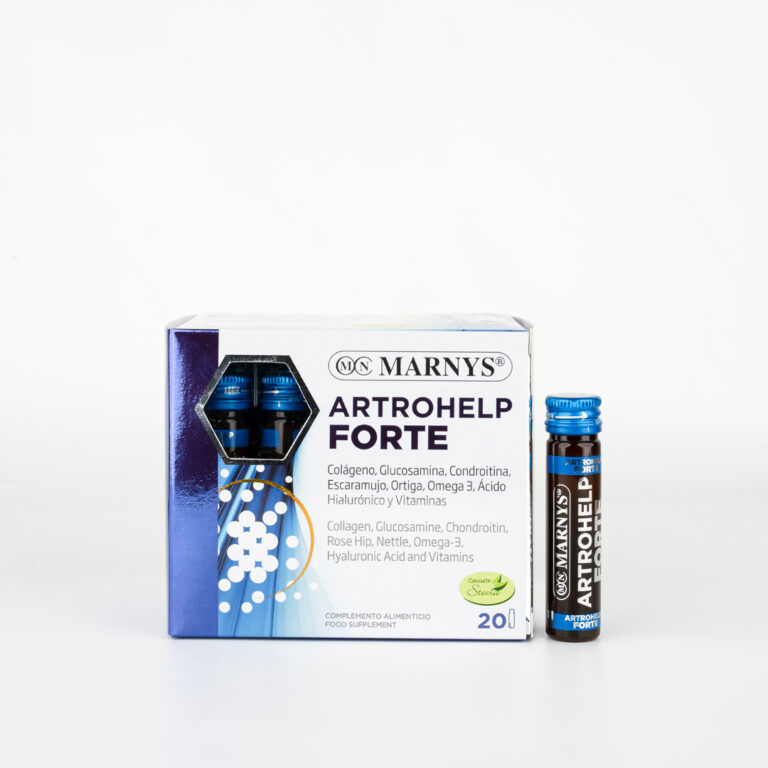 Pay attention to joint nutrition!
Pay attention to joint nutrition! Synergy formula that is essential for our joints to produce collagen and keep joints healthy*
MARNYS® Artrohelp Forte, is a food supplement with a synergy formula essential for our joints for collagen formation* and to help keep bones and joints healthy*.
Formulated with enzymatically hydrolysed collagen with maximum absorbency, as it is the only way it can be absorbed by our organism.
Bones, cartilage and joints are made up of collagen and as we age we produce less collagen.
Glucosamine sulphate (over 90%), Chondroitin, Rosehip (source of vitamin C*), Hyaluronic acid (over 90%), Omega 3 and Nettle.
*Rosehip's Vitamin C (50%) contributes to normal collagen formation for normal bone function*.
Vitamin D3 and K2 help maintain normal bones.
Deionized water, hydrolysed collagen, D-Glucosamine sulphate, chondroitin sulphate, rosehip extract powder (Rosa canina), calcium carbonate, nettle extract (Urtica dioica), fish oil, hyaluronic acid, vegetable glycerin, D-α-tocopherol (vitamin E), menaquinone (vitamin K2), cholecalciferol (vitamin D3), sweetener (steviol glycosides), preservative (potassium sorbate), natural flavouring
ALLERGENS: Contains fish-based ingredients.
20 x 10 ml vials