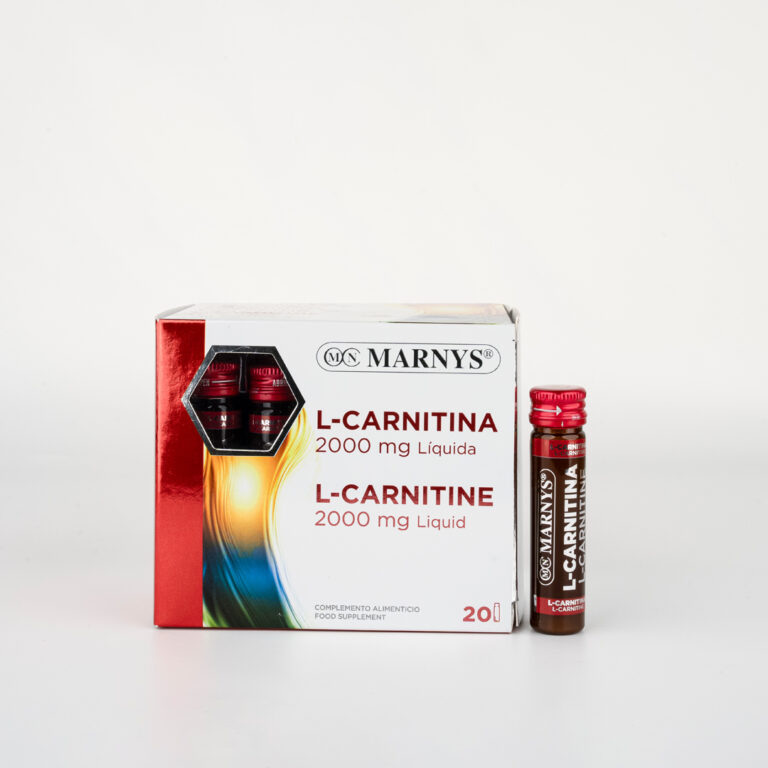 Fat burner and food for your muscles
Bioenergetic muscle action. With orange juice and a rapid effect.
MARNYS® L-Carnitine 2000 mg Liquid is a food supplement indicated for cases of decreased carnitine levels. 
L-Carnitine is considered as one of the most effective nutritional ingredients for weight reduction programmes, athletes who need to recover effectively after exercise and in male subfertility for health sperm. 
MARNYS® L-Carnitine is presented in handy and practical drinkable vials. Each vial of MARNYS® L-Carnitine incorporates 2000 mg of pure L-Carnitine with orange juice and sweetener. A pleasant taste and a rapid effect.
L-Carnitine is a very small molecule that enables free fatty acids to be transported into the mitochondria of cells to turn into energy. Without the activity of L-Carnitine, fatty bodies would tend to accumulate in muscle tissue, fat tissue and arteries.
L-Carnitine can be supplied as a dietary supplement in cases of L-Carnitine deficiency, extra energy intake, as an additional stimulus to fat metabolism, muscular atrophy, fatigue and tiredness, reduced sperm activity, infertility, vitality loss and immune system depression.  
Carnitines are highly concentrated in the epididymis and play a crucial role in the sperm health (metabolism & maduration). They are related to sperm motility and have antioxidant properties. A variety of studies conclude that Carnitines at total daily amount of 3 grams can significantly improve both sperm concentration and total sperm counts among men with asthenozoospermia and oligoasthenozoospermia5.
Boost physical and muscle performance, postpones fatigue appearance and facilitates shorter recovery times.
Decreases muscle damage by protecting the integrity of the muscle tissue, preserving the contractible function.
Stimulates the use of free fatty acids for energy production.
Helps metabolize fats and lose weight.
Helps to sperm health in sperm motility.
Helps eliminate free radicals and boosts immunity.
Gluten Free.
Ref.
1.- L-Carnitine: Monograph. Alternative Medicine Review. 2.- D.J. Sung et al. Science & Sports. 3.- Natural Health Product L-Carnitine. Health Canada. 4.- Benjamin T. Wall et al. J. Physiol. 5.- Dr .A.Agarwal. Dir.Research for Human reproduction, infertility and sexual function. Glickman urological institute and department of Obstetrics & Gynaecology. The Cleveland clinic foundation. Desk A19, 1. Cleveland OH 44195 USA.
L-carnitine L-tartrate, orange juice from powder concentrate (7%), acidity regulator (potassium phosphate dibasic), preservative (potassium sorbate), sweetener: sucralose and deionized water.
1 vial a day, preferably before breakfast. Shake well before use. 
20 x 11 ml vials
Do not exceed the recommended daily dosage. Not recommended for liver and kidney patients. Food supplements should not be used as a substitute for a balanced diet.