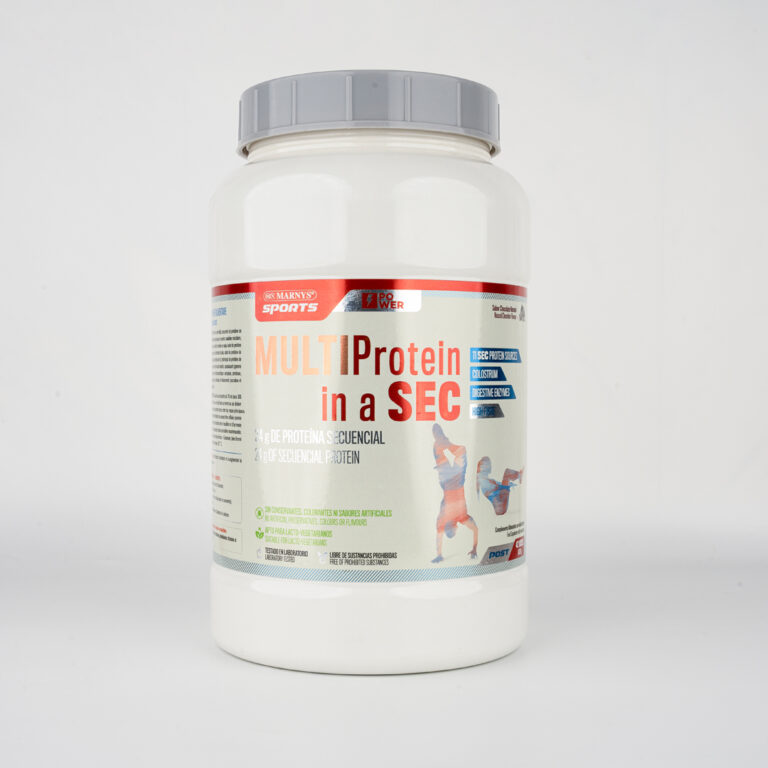 Muscle definition
Multi-source sequential protein. With vegetable Omega 3, colostrum and digestive enzymes
MARNYS® SPORTS MULTIProtein in a SEC has been formulated with a protein sequence from 11 different sources. The SEC complex (Sequential Protein Complex) with colostrum, Omega 3 and digestive enzyme blend, provides a constant protein source with low glycaemic index which contributes to the construction and definition of muscle mass.
MAIN ACTIONS AND BENEFITS
It promotes the construction and definition of muscle mass, thus maximising strength and power.
The presence of digestive enzymes favours the correct protein absorption.
The intake of proteins (complexes consisting of essential and branched amino acids) along with the sports practice, increases the protein synthesis favouring the increase and definition of the muscle mass.
MULTIProtein in a SEC is perfect to take between meals, as it provides a stable source of energy with low glycaemic index and satiety sensation, contributing to improve muscle definition by reducing subcutaneous fat
Dissolve 1 level scoop (35 g) in 250-400 ml of water or milk in a glass or shaker cup right after sports practice and/or between main meals.
1575 g Bottle
45 servings