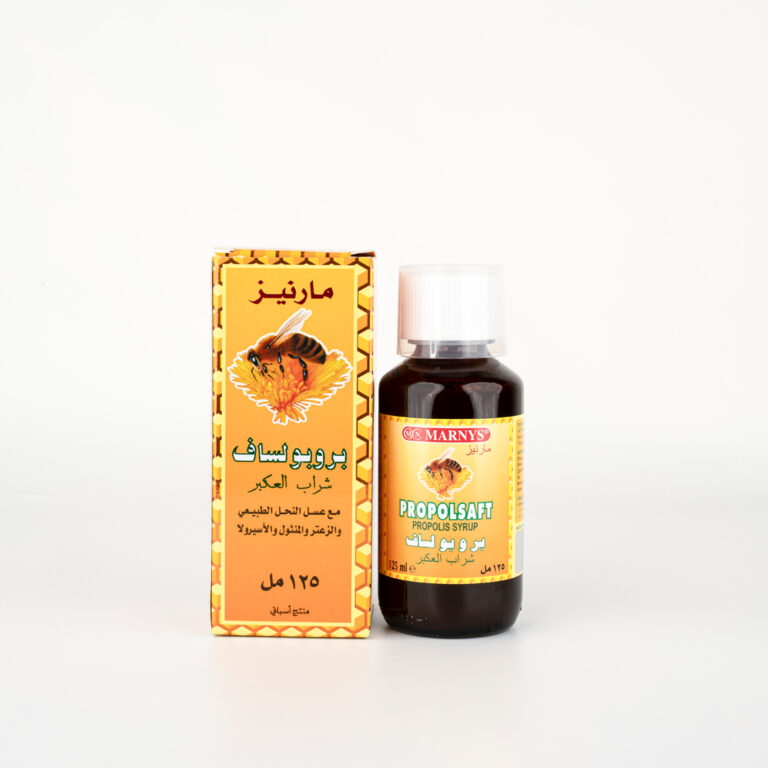 Soothing and expectorant for mouth and sorethroat
Propolis balsamic syrup with honey, thyme, menthol and acerola.
MARNYS® PROPOLSAFT is a balsamic syrup with purified propolis, bee honey, acerola, menthol and thyme extract. 
The combination of its active ingredients has been especially formulated to help reduce the productive cough and contribute to the expectoration. 
Respiratory infections and nasal congestion are high-frequency events in the population that causes coughing with or without mucous, nasal secretion and obstruction or sore throat, among others
Propolis is a resin made by bees to protect their hive from diseases by sealing the walls and cells. In Greek Pro- means "defence" and -polis means "city". 
Propolis is one of the food items with the highest source of flavonoids, such us galangin, its most effective active ingredient.
Galangin plays a key role in immuno-modulation, antioxidative and antibacterial activity1.
MARNYS® uses propolis of high quality that guarantees 10% minimum galangin content. Purified propolis is standarized and contains not less than 50 mg/g total flavonoids expressed as galangin.
Honey is composed of a high content of essential amino acids.
Thyme is known for their balsamic and relaxing properties.
Acerola cherry is one of the fruits with most vitamin C. It is composed mainly of ascorbic acid, polyphenols and carotenes that provide anti-inflammatory and antioxidant activity.
Menthol also contains a large amount of terpenes, which have analgesic and antiseptic activities.
MARNYS® PROPOLSAFT contains no alcohol, preservatives, artificial colours and flavours. 
MARNYS® PROPOLSAFT does not cause drowsiness nor tolerance (meaning that the dose does not have to increase in repeated administration).
Ref:
1) Bogdanov, S. 2014; 2) Wagh, V. D. 2013
Per 100 ml: Purified propolis (equivalent to 5% of crude propolis), bee honey, glucose and fructose syrup, Deionized water, colorant caramel natural, acerola, menthol and thyme extract.
Children: 5 ml x 3 times daily
Adult: 10 ml x 3 times daily.
Shake well before use.
125 ml bottle
PROPOLSAFT is well accepted by patients and it is extremely rare that allergic reaction can occur, but caution should be taken in patients with asthma and allergy to pollen.