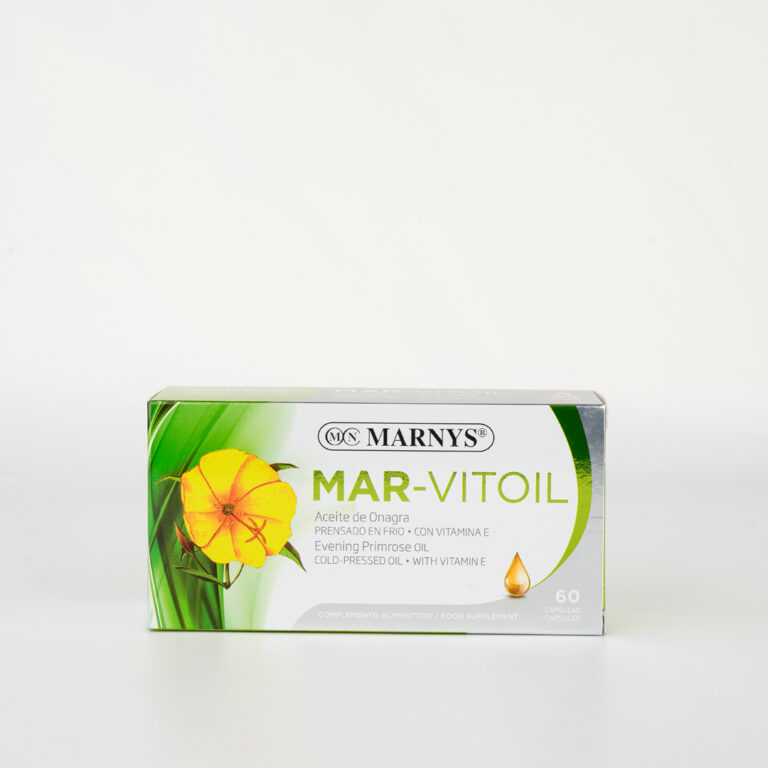 Evening Primrose: women's natural support
Pure cold-pressed oil from Oenothera Biennis seeds with natural Vitamin E
MARNYS® MAR-VITOIL Evening Primrose Oil is a pure oil extracted by cold-pressing Oenothera biennis seeds.
MARNYS® MAR-VITOIL contributes to the maintenance of the metabolic profile in adult women.
The physiological changes produced by disorders in the secretion of estrogens (female hormones that regulate the menstrual cycle), not only alter the function of the ovaries but also the cardiovascular area, affecting the mechanisms of blood vessels regulations and oxidative stress. Energy use decreases, and this causes alterations in muscle mass and fat tissue, as well as cognitive, sleep and mood disorders at a nervous system level.
MARNYS® MAR-VITOIL formula contains Evening Primrose Oil and natural Vitamin E contributing to:
Promote the maintenance of skin, which is especially affected during estrogen disorders.
Evening Primrose Oil contributes to the relief of symptoms related to the disorders of the menstrual cycle, including the proper functioning of the cardiovascular and nervous system.
Natural vitamin E is the main lipid-soluble antioxidant, contributing to the protection of cells from oxidative damage.
In the MARNYS® MAR-VITOIL formulation, Evening Primrose Oil is neither subjected to high temperature, nor are organic solvents used. Its extraction is by cold mechanical pressure.
Ref. 
1) Belch, J. et al, 2000. 2) Abdulridha, M. K. et al, 2017. 3) Human Vitamin and Mineral Requirements, FAO/WHO, 2001. 4) Susan R. Davis et al, 2015. 
Per capsule: Evening Primrose oil* (500 mg), vitamin E natural (d-α tocopherol) (10 mg)
* Oil obtained from the Oenothera biennis seeds by cold pression.
3 capsules per day before meals.
60 capsules
Store in a cool dry place, out of the reach of children at 15 - 25ºC.