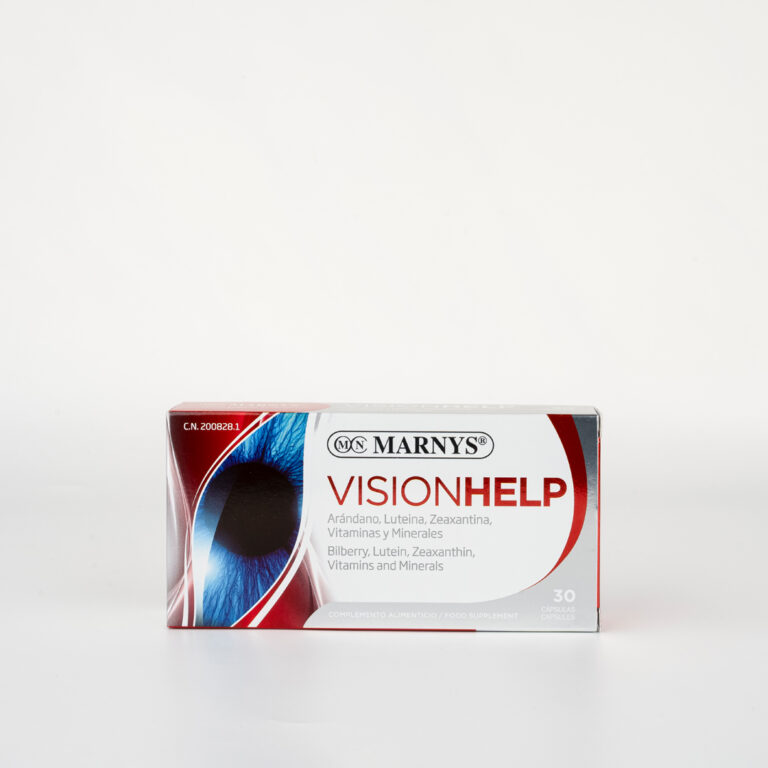 If you protect your eyes with sunglasses, why not take care from the inside too?
Bilberry, Vitamins and Minerals to help maintain normal vision.
Compared to other organs, the eye is very susceptible to oxidative damage due to its continuous exposure to light and its high metabolic level.
MARNYS® VISION NATURA exclusive formulation facilitates a beneficial visual hygiene, due to its antioxidant action, as well as the maintenance of the metabolism in the eye and of the tissues that surround it, such as mucous membranes and blood vessels.
The carotenes present in MARNYS® VISIONHELP (Lutein, Zeaxanthin and β-Carotene) provides vitamin A, which facilitates normal function of vision and the mucous membranes surrounding the eye.
Bilberry used in MARNYS® VISIONHELP provides 25% anthocyanosides, which are polyphenols with a powerful antioxidant action.
Taurine is the most abundant amino acid in the retina, and arginine is an essential amino acid in ocular metabolism.
Vitamin B2 (riboflavin) contributes to the maintenance of normal vision and to the protection of cells from oxidative stress.
The minerals magnesium, zinc and selenium facilitate cell regeneration and electrolytes balance.
Bilberry concentrate (25% Anthocyanosides), Magnesium Citrate, Calcium Citrate, Vitamin C, Taurine, Arginine, Nicotinamide, Zinc Dioxide, Lutein, β-Carotene, Vitamin E, Vitamin B2, Vitamin B1, Zeaxanthin, Selenium Yeast, Chromiun Picolinate and Vegetal oils, Beeswax & Soya Lecithin in s.q.
30 capsules