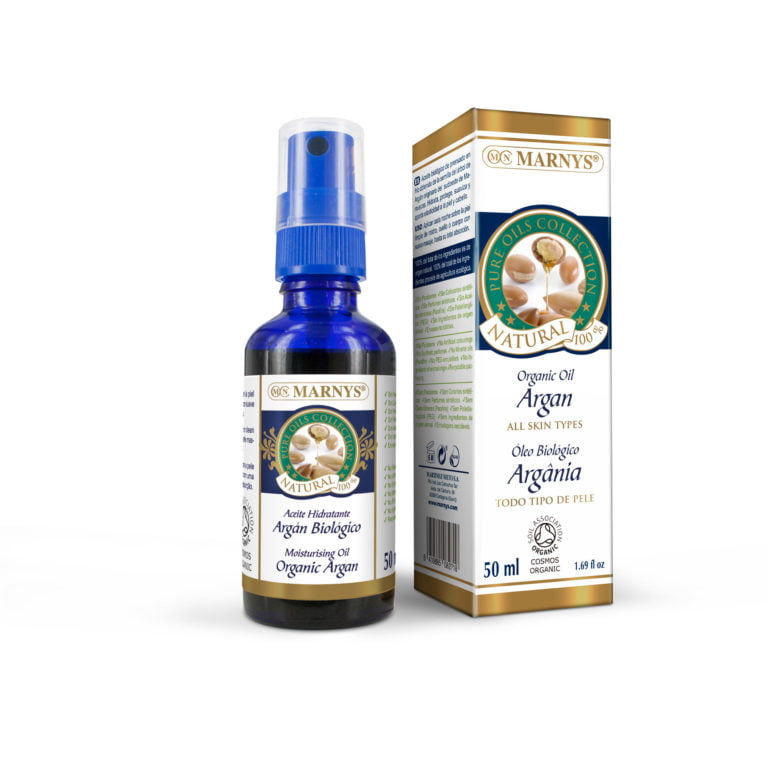 Intensive care for your skin, hair and nails
Liquid gold from Morocco. 100% certified organic and natural cosmetics.
MARNYS® Organic Argan Oil is Organic cold-pressed oil obtained from seed of Argan tree (Argania spinosa) from southwest of Morroco. 100% organic cosmetics certified by COSMOS, Soil Association's organic standards. 100% of the total ingredients are from natural origin and from organic farming.  
MARNYS® Organic Argan Oil moisturizes, protects, soothes and provides elasticity on skin and hair.
Provides essential fatty acids to the skin and protects it from external aggressions, such as sun and wind. MARNYS® Organic Argan Oil also helps in reducing the appearance of expression lines thanks to its powerful antioxidant action. 
Suitable for all skin and hair types. Extraordinarily nourishes and protects dry, thin and damaged hair. It also repairs dry, chapped hands and strengthens brittle nails. 
PROPERTIES
Certified organic, 100% plant-based oil.
Intense softness and hydration for skin care, nails and hair.
Nourishes all types of skin, especially dry and damaged skin and hair.
Regulates skin's sebum production and soothes the scalp.
Quickly absorbed by skin without leaving oily residues.
Light and smooth texture.
Excellent carrier for Essential Oils.
0%
Parabens.
Artificial colours.
Synthetic Perfumes.
Mineral oils/Paraffin.
PEG emulsifiers.
✓ No ingredients of animal origin.
✓ Recyclable packaging.
Argania spinosa kernel oil. *Ingredients from organic farming.
Apply every evening on clean face skin, neck and body with a gentle massage until completely absorbed. To strengthen nails, mix with lemon juice, apply to nails and leave overnight.
50 ml spray bottle