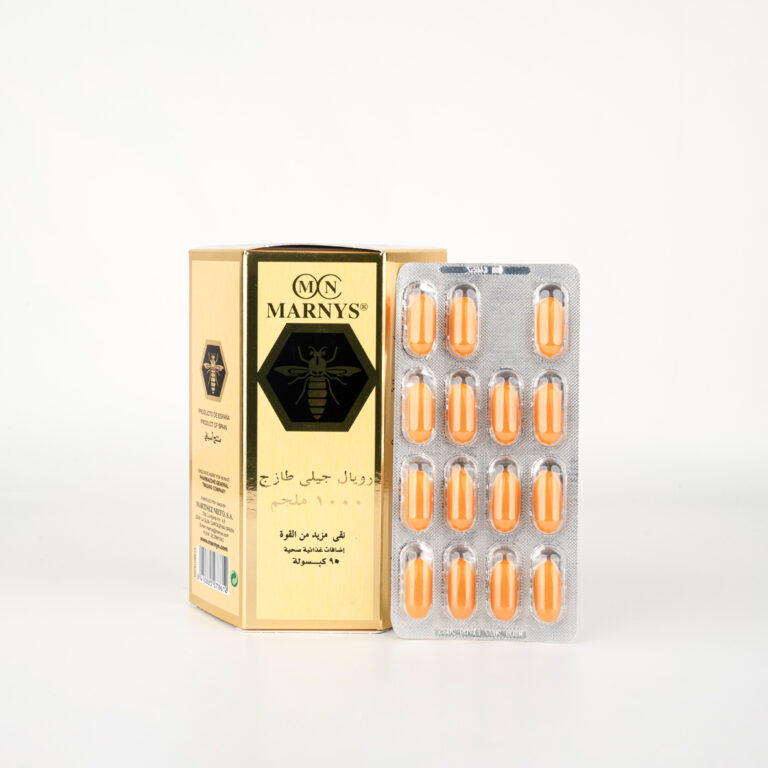 Positive effects on body and mind
MARNYS® Royal Jelly 1000mg with Lecithin is a food supplement with significant nutritional value that provides energy in extraordinary situations of physical and mental activity. Royal Jelly in MARNYS® Royal Jelly 1000mg is pure and freeze-dried, and has been scientifically tested under strict quality control in our own laboratory. It doesn't contain GMOs (Genetically Modified Organisms). Royal Jelly has been traditionally used since Ancient Greece as it favoured physical and mental capabilities, and was a symbol of longevity and fertility. MARNYS® Royal Jelly 1000mg and its ingredients provide positive effects on body and mind because: Royal Jelly is the food of the queen bee and is characterised by its amount of unsaturated fatty acids involved in energy-yielding metabolism, standing out 10-hydroxy-2-decenoic acid (10-HDA). Soy lecithin comes from Soya bean (Glycine max), which belongs to the family Fabaceae, and contains high concentrations of plant protein. Soy lecithin is a complex blend of phospholipids and triglycerides, being phosphatidylcholine and phosphoinositol the most important phospholipids, which are found both in the bile ducts and in the cell membranes of the nervous system. MARNYS® Royal Jelly 1000mg is especially recommended for people who want extra energy for their physical and mental activities due to their daily or extraordinary activities. For example, times when more exercise is done, increased demand when working or studying...
• Royal Jelly 1000mg • 29 amino acids • Vitamins ( B1, B2, B3, B5, B6 ) • Minerals ( sodium, potassium, Zinc, Calcium, Iron, Manganese, copper )
Take 1 capsule a day before breakfast.
90 x 1000 mg capsules
Warning: people with special sensitivity to bee products please consult your physician. This product contains soya-bean-based ingredients.