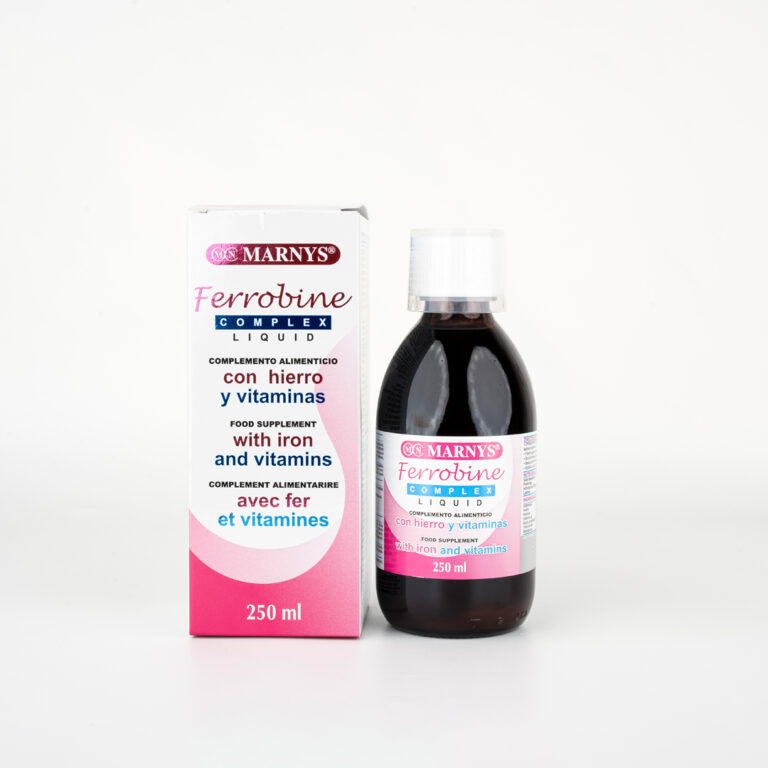 The best tasting way to take iron
The way to take iron with the best tasting syrup and a high iron content and 27 fruits.
MARNYS® FERROBINE COMPLEX is a pleasant syrup with a high iron content.
Contains a concentrate of 27 fruits, vegetables and cereals and 12 vitamins.
A daily dose provides 100% of your recommended iron intake.
Deionized water, fructose, lemon juice, apple juice, prune juice, fructooligosaccharides, iron gluconate, fruit concentrate, vegetables and cereals*, preservative (potassium sorbate), vitamin C, niacin, vitamin E, pantothenic acid, vitamin B6, riboflavin, thiamine, vitamin A, folic acid, biotin, vitamin D, vitamin B12 and flavouring.
*Red grape, tomato, raspberry, rosemary, cranberry, celery, wild blueberry, blackcurrant, carrot, strawberry, cherry, pineapple, apple, peach, apricot, lemon, lime, orange, grapefruit, barley, rye, wheat, broccoli, cabbage, Brussels sprouts and spinach.
ALLERGENS: Contains gluten and celery.
Children 5 to 12 years of age: Take 5 ml before breakfast.
Teenagers and adults: Take 10 ml before breakfast.
Shake before use.
250 ml bottle
Do not exceed the recommended dose.