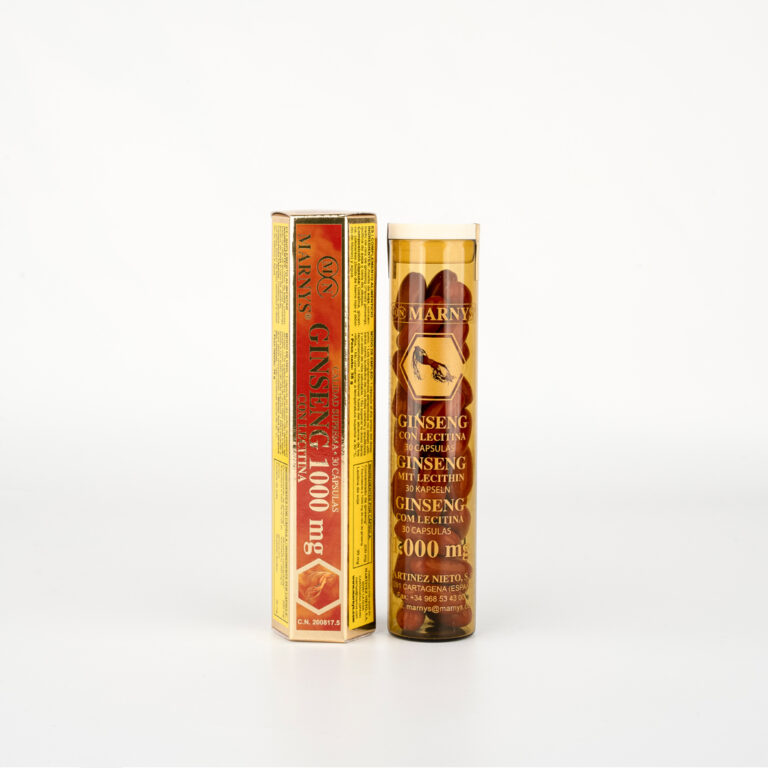 For balancing the intense mental and physical activity
"4-Stars" Ginseng. European Pharmacopoeia quality parameters.
MARNYS® GINSENG WITH LECITHIN contains superior quality Ginseng and Soy Lecithin that, in the quantities used, helps the balancing effect for intense mental and physical activity.
Korean Ginseng (Panax ginseng) is one of the most farmed ingredients in traditional Chinese medicine and one of the most popularly used adaptogens worldwide. Ginsenosides are responsible for most of the activities of ginseng. There are over 30 types, being one of the most important the so-called Rg1 as it plays an important role in the functionality of the central nervous system.
MARNYS® use European Pharmacopoeia quality parameter's Ginseng, with a minimum ginsenoside (Rg1) content of 20%. Each softgel contains 200 mg of Panax ginseng extract (equal to 1000 mg of Ginseng root) - measured by HPLC.
It contributes to physical and mental performance, facilitating physical activity, concentration and memory.
The synergistic association with Soy Lecithin supplies phospholipids, fundamental elements of cells especially those of the nervous system.
Ginsenosides present in Panax ginseng have antioxidant capacity.
Ginseng also contributes to maintaining a normal immune function and normal blood glucose levels, favouring therefore the energy process in mental and physical activities.
The phospholipids in Soy Lecithin, the most abundant in body tissues, incorporate fatty acids in the cell membrane with better absorption and greater efficacy.
Each capsule contains Panax ginseng 200 mg* C.A. meyer concentrate (equivalent to 1000 mg of Ginseng root), Soy oil 600 mg, soy lecithin 30 mg and bees wax 20 mg.
1 capsule per day, before breakfast.
30 capsules
Food supplement should not be used as a substitute of a balance diet. Don't increase the recommended daily dosage. Consult doctor or pharmacist if suffering from diabetes, hypo-hypertension, using anticoagulant drugs and psychiatric patients.